Past Lil Spills
RECENT COMMENTS
More Lil Spills
2018
2017
2016
2015
2014
2013
2012
2011
2010
2009
Who's damn idea was this swim challenge? I am a dumbass, but it is for a good charity. Low and behold our team got them to change some of their rules. LOL. Dinesti rocked as captain. She got everyone together and saved one of our members lives! You don't get better then that. Dinesti had us go in half hour increments. My arms are shaking. Well today was the furthest I have ever swum at 4600 meters. I wish I could of read my watch and tried to crank out another 400 to make it 5000. But honestly I have nothing left in the tank. I will load more pictures tomorrow. Yes the Coyote Ugly team used a raft and swimmies!! For charity!IMG_3864.MOV
Read comments or leave your own →
Today is the swim 24 charity event in La Jolla, Ca. Dinesti , AM San Diego bar, did a great job of putting our team together. I think Dinesti and I will be the weakest swimmers. Should be fun . We are raising money for underprivileged kids to learn to swim. In a city that borders the ocean swimming is crucial. Drowning is the 2nd biggest cause of death in children in San Diego.dinesti sent the schedule . Going to be a long 24 hours! DJs movies and band while we swim!
Swimmer Swim 1 Swim 2 Swim 3 Swim 4 Swim 5
Mike 12:00pm
Ali 1:00pm 7:30pm 11:30pm 3:30am 7:30am
Caitlin 1:30pm 3:00pm
Lil 2:00pm 8:00pm 12:00am 4:00am 8:00am
Dan 3:30pm 5:30pm
Hongqiang 4:00pm 8:30pm 12:30am 4:30am 8:30am
Nando 4:30pm 9:00pm 1:00am 5:00am 9:00am
Arcangel 5:00pm 9:30pm 1:30am 5:30am 9:30am
Pam 6:00pm 10:00pm 2:00am 6:00am 10:00am
Dinesti 6:30pm 10:30pm 2:30am 6:30am 10:30am
Setta 7:00pm 11:00pm 3:00am 7:00am 11:00am
Read comments or leave your own →
Dear Beth,
Thank you so much for the care package. While some people wouldn't think of bottles of vodka as being a " care package" per se . I do. I received the package early this afternoon and placed all 4 bottles in my freezer. Well my whole fridge just died. So thank you for all the vodka drinks I will be having tonight with my date!! A true Deep Eddy night.
Very thoughtful.
Thanks
Lil
I love this video http://news.yahoo.com/blogs/trending-now/boy-comically-protests-mother-s-pregnancy-news-180254871.html
Read comments or leave your own →
It's 9 pm and my bed frame that I ordered 4 months ago just arrived. The delivery man came to the door , he is probably about 65 years old. My son automatically went to him and said let me help you. Two things come to my mind . First is that I raised a good boy. Second , omg, he is the size of a man. So grown up.
Took Mac out for dinner for his birthday . Really nice time
Read comments or leave your own →
Read comments or leave your own →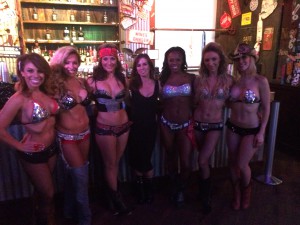 Read comments or leave your own →
" Note to all pr people who work with me: don't Listen to me! I don't know how to put my own makeup on ! Had a radio interview this morning . Now I am waiting to appear on the morning Blend TV show in Vegas. A full day of press for the Coyote Ugly 21st birthday party at the Vegas bar.
I had big plans to hit Vegas hard with my friend Leslie last night.we met her friends at dinner l drank wine and I was I bed by 11. Pathetic .
Comments Off on
New coach video taped me swimming. I thought I looked good. His critique of my swimming was not quite as kind. Half Ironman here I come.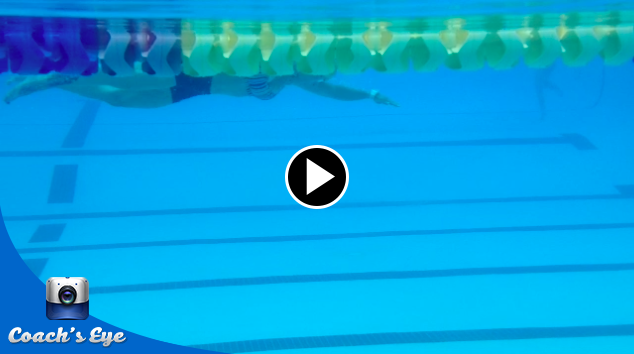 Read comments or leave your own →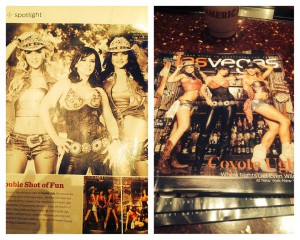 Beto and Lizzie called me out for the ice bucket challenge. Kevin called out Jackson. So Saturday we will do it.
Heading to Vegas tomorrow for their big 21 year promotion. What happens in Vegas stays in vegas baby!!All this healthiness in San Diego and I am ready for a little naughty. Hitting Vegas like a freight train!!
Comments Off on
Robin Williams and Lauren Bacall. Two legends RIP.
On a happy note. I think we are very close to securing our manager's seminar in Cancun! This company is outstanding!
Comments Off on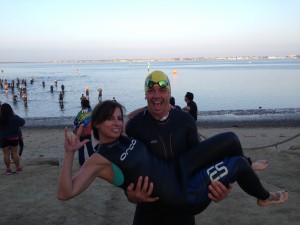 Ha I thought I came in 3rd from last on the swim portion of the Chula Vista Challenge but I actually beat 13 people! It's a small victory but a victory all the same. Kevin and Judy came into town. We went to Temecula and hit the wineries like a pub crawl on Friday night. Saturday was rough. And today Kevin and I did the Chula Vista challenge as a relay team. I did the swim, he did the bike, then we both did the run. By the time we started running we were dead last as a relay team so we ran, chatted, walked. LOL Doesn't inspire competitive spirit when you don't see anyone left on the course.
A lot going on in Coyote Ugly world.
Comments Off on
The heavens opened up and just sent me a great gift. Thanks Tommy!!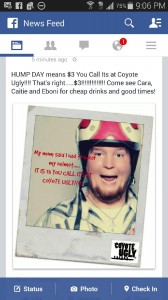 Comments Off on
" Mac the SD staff is awesome. They are 98% great. They need some work on bartending. 1. Taking multiple orders at the same time. 2. Being better at inspiring female customers to dance. But really they are awesome." Later I said to Chantel " he heard nothing but the negative . If he was listening at all". I think he has a huge man crush on Daniel and won't listen to anyone else. That's alright, I only started the company and have been in the business 25 years. " Daniel, use your bromance with Mac to tell him to listen."
I am still tired from that damn triathlon.
OMG Mac just called and said " If you told me to take shit and spread it on the wall cause it looks good, I would do that."
Read comments or leave your own →
Chantel , Mac, and I are doing the Camp Pendelton Semper Triathlon. Mac's only goal is to beat me . " dude I can barely swim , I am afraid of riding the bike , and I am a slow runner. I will mock you if you don't beat me."