Past Lil Spills
RECENT COMMENTS
More Lil Spills
2018
2017
2016
2015
2014
2013
2012
2011
2010
2009
How is it possible for a person to be a triathlete and be scared to ride a bike? I am absolutely petrified to ride a bike. I train using a kinetic trainer in my house and only ride the bike outside during an actual triathlon. This week my new coach made me ride Fiesta Island with the clip ins. I could feel an anxiety attack brewing. That night I sent him an " I think it's best if I quit " letter. Of course he talked me off the ledge. Today my neighbor has asked me to ride. I am flipping out right now. I hate being clipped into the pedals. " Lil we will ride to Fiesta " My response : " No there are cars and hills" She thought I was joking. Nope . I am going to force myself to do this but I already texted my coach and said expect another " I am going to quit " letter. This is horrible. I am completely petrified!!
Read comments or leave your own →
What on God's Green Earth would make people want to come to the New Orleans bar on Halloween for a promotion called " Black Magic Cowgirls?" What exactly is it? Why would people drag their asses from Bourbon St ? Just to see the girls wear black and cowboy hats? The food ? The drink specials? There are girls working all over Bourbon St. The specials on Bourbon are equal if not better then ours. SO What could we do to make people leave Bourbon and Come to us? THINK OUT OF THE BOX!!!
Today has been a disaster at work. Opening log after log of mediocre. Thank you, San Antonio, Denver, San Diego, and Austin for not being so bad that I get worried that I have to start bartending again. I bet I could walk into these bars and bartend a shift , Not getting on the bar once and ring in more then some of these girls. ( No don't start asking me to). I cringed reading these logs. Picture the scene: Its Tuesday Day around 4 pm in OKC ( just picking that off the top of my head) There are 3 people in the bar because people haven't gotten off of work yet. You go into the bar just wanting a drink maybe even some conversation and the bartender comes over to you using a mic ( even though you can hear her perfectly well since it's dead) and she tries to get you to buy merch while screaming on the mic. As you can imagine , that customer wants to leave. Not only did that customer just want a drink and some chatting but now they are getting yelled at on the mic by some loud girl.
Let me guess I will now be getting an email from Daniel " I have told the managers not to do that. Lil we haven't done that in a while. " Yeah right.
Believe me New Orleans isn't the only boring Halloween party flyer. Does every flyer have to be some hot girl in a school girl outfit? My god get original. I told them at the manager's conference to do a true " Coyote Ugly Contest" Have the prize go to some guy and girl that people vote on that you would actually chew your arm off as not to wake them up from a poor sex decision after a night of drinking. How funny would it be if the girls came with buck teeth, pot bellies, pimples. And the guys show up with balding toupees, bad teeth, Dip hanging from their cheeks? That would be awesome!! No one has the guts to do it!
Read comments or leave your own →
How is it possible that my son is 15 today? It seems like yesterday when he was little and running around the house.
Key West having a big week! I love that.
Yesterday Daniel calls with Tahnee in the background . I could hear them both chuckling " Lil we need your birthdate for this form." Sorry not giving out my birthdate. And for the record Daniel " Let's see if you look half as good as me when you are my age." Urgh just pissed me off.
I will arrive in Key West on Saturday evening. Hopefully no urgent care visit after my trip like last time. Who knew I was allergic to sand fleas?
Read comments or leave your own →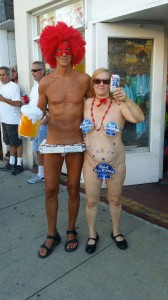 Read comments or leave your own →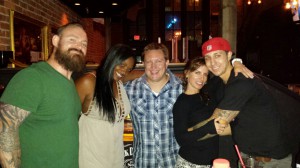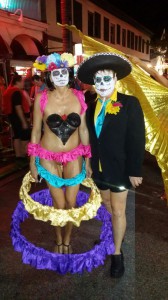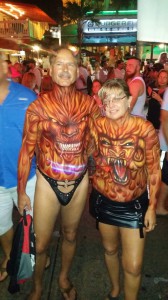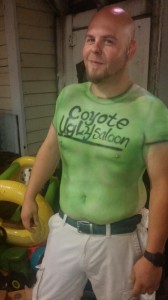 Comments Off on
My head is pounding!! I blame Justin the new guy. What I remember ,well, is going to dinner , eating and having some wine. What is fuzzy is the shots of Coyote Ugly Whiskey back at the bar . I did 38 push ups and lost a bet to Mac. I danced on the bar to get girls dancing. As I am writing this I remember laying on some guys back while he did pushups. ( I think). " Justin you better find international licensees because right now you are not my favorite person."
NOVEMBER 1ST starts the SD bar's challenge to get fit. Whoever loses the most weight and gets the most fit wins cash. I don't really have to lose weight but I will try for the 6 pack. " Let's do it. Dinesti NO BREAD!"
Read comments or leave your own →
Hugh Hefner in KW!!! I am so jealous. That's a living legend right there. A Pic with Taboada, KW AM Right now KW and San Antonio are the only two bars performing this week. Tomorrow is Daniel's birthday. hmm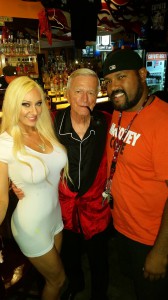 Comments Off on
This is from Jasmine, our Denver AM to Daniel our Director of Operations. This truly made my day!
Thanks…
Dear Cupcake…aka Daniel Huckaby…I realize that on 10/4/14 you did the best Saturday of the year besides Saint Patrick's Day, however I accepted your challenge and one upped it…not only did we have the best Saturday of the year but looking back at our daily sales by date & year we did the top sales ever!!! Yup Yup! Your 2nd Place ribbon is in the mail! 🙂 Love You! 🙂 DENVER ROCKS!
Comments Off on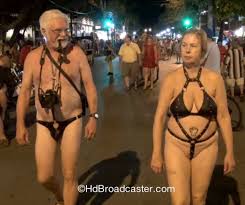 Comments Off on
Happy Bosses day. Woke up to some nice texts and emails. Want to send out a happy bosses day to all our managers and corporate members. It's a great little company with incredible people. Fantasy fest about to start in Key West. can't wait to see all the craziness!!! Totally fun. I hope when I am in my 60s I can walk around with my significant other wearing buttless chaps and no shirt. That's true confidence and love! Oh and believe me he will be wearing a little sac to hold his manliness in check but that's it!! A couple that can wear buttless chaps together sticks together!
Comments Off on
A very fun day. I had a call with a company about a tv show. This "CALL" was supposed to take place after my open water swim lesson. I was a tad ill prepared when they decide to Skype and videotape the call. " Well I guess I better have a lot of charisma to help camouflage the goggle marks and the Fucked up sea water hair ." It's the hard that makes it great. Just fun talking about something new.
Regardless, This morning I woke up thinking, " I want a mother fucking bar in London. OK Let's make that happen Justin!!"
Read comments or leave your own →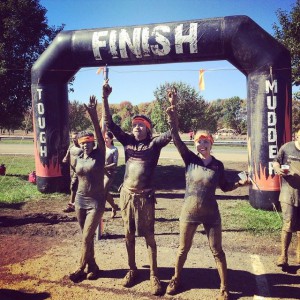 Some of the NYC staff doing the Tough Mudder!!!
Comments Off on
" Dude you better have me swimming like a damn mermaid if the doctor keeps me from running or biking." That was my statement to my triathlon coach. I just got a call from my doctor. I ruptured a Popliteal Cyst ( baker's cyst) at the Half Ironman. I knew it. I go in on Wednesday for a Cortisone shot. Even though it hurts I feel relieved. I will be back on track in no time.
Bars did mediocre this weekend. Daniel just called. This 30 hour full-time issue is so time consuming. " Mac wants approval for … Marsha wants approval…" What the f ? We discussed this for months. These managers better figure it out.
NYC bar did the Tough Mudder this weekend! fun. ( It must of been cold)
Read comments or leave your own →
What a tumultuous week. Daniel has been flying all over the country. We had upheaval at the Nashville bar . Now we are trying to get the bar back on track. Dinesti's mom Facebooked me asking if I could send Dinesti back to Nashville. I love Dinesti and her mom but I don't think I can grant her this wish at this point.
Nashville sucked this weekend. San Diego was down this weekend. I am feeling a bit antsy. I think I will head to Austin with Chantel next week. Where shall I go this week? Phoenix? hmmm
I had a very interesting email this week. Once I iron out the details I will spill the beans. Very funny. MRI results should be in this week. Let's see.
Comments Off on
Bars did great last night except 2!! NYC making a huge reversal. Well done. Numbers going way up!
This morning I received the Jeff wake up call which is never good. FUCKING KEY WEST. I am tired of this negative attitude. You wake up every day with the beach as your backdrop. Start giving gratitude to your surroundings and start bringing positivity to the people around you. I am very close to my limit. FUCKING MOVE ON THE GOD DAMN ANNIVERSARY PARTY !!!
Today I am grateful for Chantel and Judy. They are both very calming people in my life. I believe in my heart I have calmed with age. But I am latin which means that on occasion I let my temper get the best of me.
So I have been invited out on a date by an ultramarathoner. Very funny person. He had invited me out to go trail running ( fucking california. They don't drink on dates like normal people ). I had told him that I will get an MRI on my knee on Friday so I could go but make sure to give me a map of the trail when he blows by me. His response " I would never leave you alone in the woods. We can go your speed. But I need you to know that if we swim in the pool together I will make you cry like a little girl." Why is that sexy? LOL
Read comments or leave your own →
This is very funny.
http://www.youtube.com/watch?v=F4ndbb4m9yI
I am going through post Half Ironman depression. I don't want to do a damn thing. Bars are doing well. Every week there is one bar that seems to rise to the surface as the Number 1 headache of the week. It's a toss up between NYC and Key west.