Lizzie: " Lil I sent you a video of "TNT " on the denver girls tell me if we are doing it right?"
Me: " No your not."
Lizzie " Is it right now?"
Me: "No"
Lizzie: " Now?"
Me. " No . But lets talk about something important. I know you love makeup and beauty type stuff. I need you to remind me every few days NOT To pluck my eyebrows because I threaded them today and not only are they different shapes but they are way too thin."
Lizzie : " Ok can we talk about the dance now?"
Today I received this picture from Lizzie.
Thank God for San Diego, San Antonio, and NY last night! Headed to Denver tomorrow!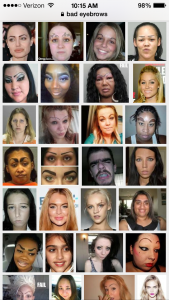 Past Lil Spills
2018
2017
2016
2015
2014
2013
2012
2011
2010
2009