Past Lil Spills
RECENT COMMENTS
More Lil Spills
2018
2017
2016
2015
2014
2013
2012
2011
2010
2009
I sent Lee to Key West to bring some life through art to the bar. Key West has live roosters walking all over the island so he decided to paint a rooster as a side addition to the skin board art he also designed. This rooster looks incredible. I was laughing so hard when he called me yesterday. " Lil this has taken me 17 hours. 8 hours to create the design and lay it out and 9 hours to actually paint it. WTF." I love it!!!
Mardi Gras kicks off with the New Orleans bar opened 24 hours a day for the next 5 days! bam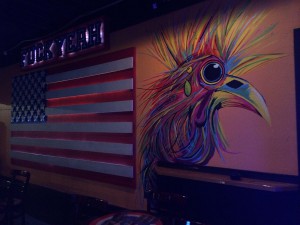 Comments Off on
In our company everyone knows of Daniel as extremely cheap. Jazz priced out some extra security cameras to provide more surveillance before mardi gras. She texted both of us asking permission. I said yes. 4 hours later Daniel said No because he can do it much cheaper. " Daniel, We are about to go into our busiest week of the year. You are actually on vacation right now in Colorado so you can't come here to do it. And don't you think factoring in the airfare for your ticket it is actually cheaper to put the cameras in now?"
" Daniel , I will already apologize because I sent Lee down to redecorate the Key West bar and you know nothing Lee does is cheap."
Bars are on fire now!!
I am having my guy moment. I ordered custom rims for my car. It took 8 weeks for them to get made but today they are finally getting placed on my car . Not only am I super excited but I feel this need to wear a cocktail dress so I look good when I get into my car.
" Please universe let all this spending stop! Give me a little of Daniel's cheap genes. Between the new house and the rims I have spent a fortune." MIDLIFE crisis please stop. The shopping and The Half Ironman training are taking over my life. Thank god my kid keeps me grounded. By the way he got his dad's cheap gene so thankfully I don't have that to worry about.
Did I report that I sat next to Lisa Nicholls , the motivational speaker, on the plane.
Read comments or leave your own →
You are F kidding me!! How the fuck did the new audio system jump in price from $5000 to $10,000 by adding one freaking speaker? This is an outrage!! The bars rocked this weekend but I have woken up to many negative issues today. 1. Milwaukee, blah, 2. Exhusband bitching about the New Orleans building. 3. Lee in Key West. " why the hell is the lighting so bad? Why did someone authorize this?" 4. Milwaukee again. 5. Going to round out the day with a Vegas conference call. Oh fuck I am late for it! crap
Comments Off on
This is what you learn when managers live at your house. Especially male managers. 1. They will leave food in the fridge for months without throwing it out. 2. They lie straight in the face of my wonderful assistant and pretend they will dispose of the cardboard boxes and also pretend they will take some boxes to good will. 3. They don't use sheets to create less laundry.
The cool personal stuff I just learned is Mac's obsession with Air Jordans. He has probably 50 pairs that he purchases on line as a collector. He will wait until 6 am to purchase a rereleased vintage pair. He takes out the tissue paper because it yellows the sneakers and he will keep some pairs in the freezer. Interesting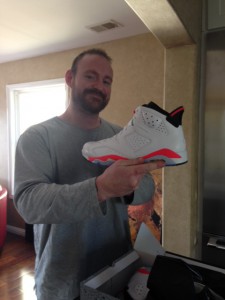 Read comments or leave your own →
The Kiev bar had to close yesterday because all the riots. The staff isn't safe riding the subway or simply leaving their house. It's such a horrible situation.
Bam Denver kicked ass last night!! We have a program on our phones that let us view the sales for each bar. At about ten o'clock West coast time San Antonio was slightly in the lead with Denver and NY following. We sent a text to Marsha ( San Antonio GM) and Mac ( San Diego GM) and told them that Denver was going to crush them. Marsha is very competitive so I know she tried to push the staff a bit harder. Within 1 hour Denver had blown by all the bars. Awesome!!!
Daniel , Tommy and I drinking wine at my new house last night. Fun
Comments Off on
We made the paper. http://blog.nola.com/eastjefferson/2014/02/kenner_boxer_gives_back_by_tra.html
Bam San Diego is rocking!
Read comments or leave your own →
" There's a sucker born every minute." The National Geographic channel had a show that featured a pastor who trapped snakes and used them in his services. His claim was that a person who believed in god and was anointed by god would not get killed by a snake. Did people actually watch this show? How many dumb asses watched the show and in hopes that they were" anointed by god" actually tried to handle a snake and got bitten? The pastor of course died of a snake bite. Let me guess, his children will carry on the snake gathering and torturing tradition, in the name of the lord.
(CNN) — A Kentucky pastor who starred in a reality show about snake-handling in church has died — of a snakebite.
Jamie Coots died Saturday evening after refusing to be treated, Middleborough police said.
On "Snake Salvation," the ardent Pentecostal believer said that he believed that a passage in the Bible suggests poisonous snakebites will not harm believers as long as they are anointed by God. The practice is illegal in most states, but still goes on, primarily in the rural South.
Coots was a third-generation "serpent handler" and aspired to one day pass the practice and his church, Full Gospel Tabernacle in Jesus Name, on to his adult son, Little Cody.
The National Geographic show featured Coots and cast handling all kinds of poisonous snakes — copperheads, rattlers, cottonmouths. The channel's website shows a picture of Coots, goateed, wearing a fedora. "Even after losing half of his finger to a snake bite and seeing others die from bites during services," Coots "still believes he must take up serpents and follow the Holiness faith," the website says.
On Sunday, National Geographic Channels spokeswoman Stephanie Montgomery sent CNN this statement: "In following Pastor Coots for our series Snake Salvation, we were constantly struck by his devout religious convictions despite the health and legal peril he often faced.
"Those risks were always worth it to him and his congregants as a means to demonstrate their unwavering faith. We were honored to be allowed such unique access to Pastor Jamie and his congregation during the course of our show, and give context to his method of worship. Our thoughts are with his family at this difficult time."
In February 2013, Coots was given one year of probation for crossing into Tennessee with venomous snakes. He was previously arrested in 2008 for keeping 74 snakes in his home, according to National Geographic. Tennessee banned snake handling in 1947 after five people were bitten in churches over two years' time, the channel says on the show site.
On one episode, Coots, who collected snakes, is shown trying to wrest a Western diamondback out of its nook under a rock deep in East Texas. He's wearing a cowboy hat and a T-shirt that says "The answer to Y2K – JESUS."
The pastor is helped by his son and a couple of church members.
"He'll give up, just sooner or later," one of the members says. "Just be careful. Ease him out."
The group bags two snakes, which a disappointed Coots says hardly justifies the trip to Texas.
"Catching two snakes the first day, 'course we'd hoped for more," Coots says in the video. "We knew that the next day we was gonna have to try to hunt harder and hope for more snakes."
Read comments or leave your own →
The Bars have been rocking. ( except Key West. need to kick that bar into gear) I will also say that I was disappointed in the New Orleans numbers since they have the all-star game and the first Mardi Gras parade this weekend.
It's official Chantel and I are registered for the New Orleans Triathlon Olympic distance, March 30th. Damn ironman videos. It looks so great to finish. The beautiful histories of these people and how they overcome adversity and finish the ironman. Damn pr companies luring me in. Yes Chantel and I are going to do our first half ironman in Augusta georgia too. Poor Chantel gets pulled into my craziness ( she's crazy too). I am definitely going to sign us up. THOSE VIDEOS just ate at me. " If the one armed women with osteoporosis can do a full ironman why can't I do a half"? I am an idiot but now that I said it, it will happen. Everyone is worried about the swim. I am actually more worried about the bike in Augusta. Fucking clip ins on hilly terrain!
Enough about that. Valentines weekend went well.
OKC had a haters ball that did phenomenally well. If you don't have a special valentine then go down to Bricktown and get loaded. lol (Of course you are not getting too loaded and will have a designated driver. )
Darren Sharper. The mind of a sexual deviant. Good looking , sports analysts, former nil player yet he drugs and rapes women. Unbelievable
Comments Off on
One of my former Austin bartenders, Esther has been diagnosed with stage 4 lung cancer. I am so sad to hear that. Gorgeous, beautiful, smart. My thoughts are with you Esther.Her picture is all over the walls of almost every Coyote in the world.
Comments Off on
I am not traveling this week. Makes me feel lazy. Have to do massive amounts of paperwork for the state of Nevada. urgh. Last time I had to get my ex-inlaws to sign paperwork. I am dreading that. "please universe let the elapsed time of divorce be long enough so I don't have to contact them."
This weather is bringing me down. I am taking all calls in my pjs under the covers today. We need to redo bar in Key West. The back room is useless and I keep getting complaints about the mic.
When I was a kid, I would make myself a hot chocolate when I was feeling down. Perhaps I will do that now. I bet a little baileys will help with that too. LOL That involves getting out of my PJs to purchase the Baileys so that's not happening.
On an up note, Mexico City is gearing to open in April!
Comments Off on
I woke up this morning to two pictures from Mac. One showed Samurai Pie . Every Seat was taken with people enjoying our pizza. ( In fact we sold every single slice. Had to close when the dough ran out.) The other picture was the line down the block for Coyote Ugly San Diego. I couldn't be happier with our performance.
Read comments or leave your own →
Read comments or leave your own →
Opening went incredibly well. The staff did an incredible job. Thanks to all the veteran girls and BMFs. Great job. The San Diego staff did great as well. I am really impressed by everyone. BAM SAMURAI PIE rocked!!! At one point there was a line to order pizza. I couldn't be happier wityh how things went. My flight this morning was canceled. Mac and I hit the gym. Now I have to figure out how to get home to my little ( not so little boy).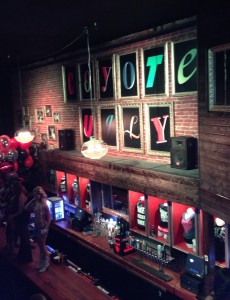 tnt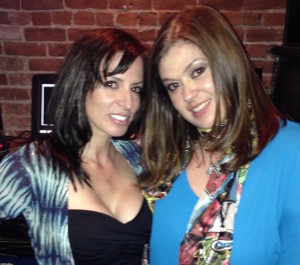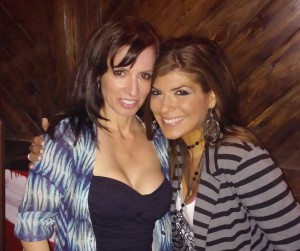 Comments Off on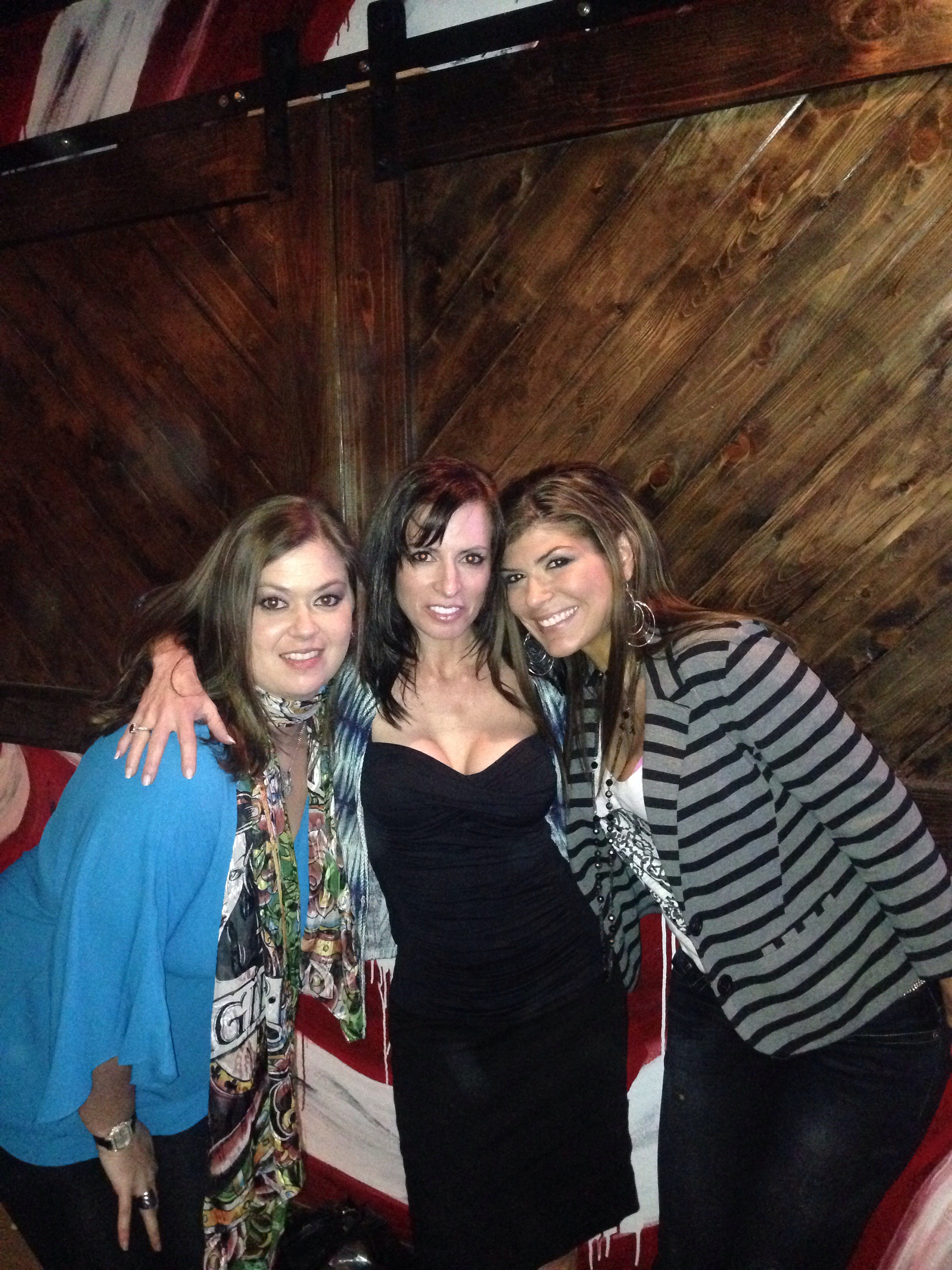 My girls on opening night
Comments Off on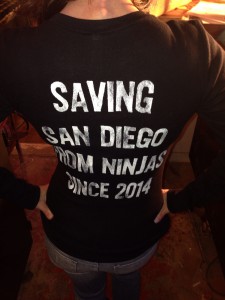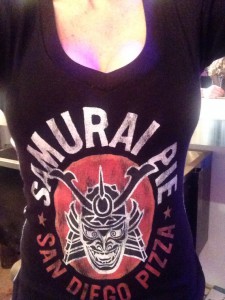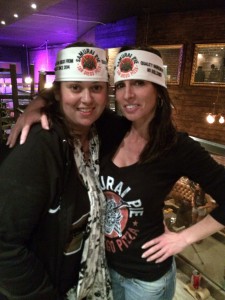 Coyote ugly and Samurai Pie opening tonight
Comments Off on
Woke up at 4 am because two various tv stations held their morning shows, in part, at the San Diego bar. Full face of makeup and hair before sunrise is unheard of in my world. But I think the 7 segments they did came out very well. Really good looking girls at this bar.
Kevin went to the hospital this morning after violently throwing up for hours last night. Now I just received an email from Jeff saying that he is violently ill. It's crunch time right now I hope they get better.
The last few days get very emotional. The new girls are having breakdowns. Corporate staff are having breakdowns. And the plumbing is having breakdowns. But not me! I helped change the choreography of the chorus of TNT and it looks fantastic. Chantel taught the veteran girls the dance for the first time and I am giddy with excitement. I am like an idiot Savant. I can't dance a lick but there is a part of my brain that is made to choreograph . Chantel is my medium. I have to do what I envision in my physically challenged way. Then I explain to her how it is supposed to look . Then she puts it all together to have my thoughts become movement. She is my personal dance medium.
Off to another meeting. Very little sleep in the last 5 days.
I am grateful today for Lee's mother. She spend over 80 hours making this jean flag that we envisioned. This woman is very educated, kind, and a truly genuine person. She came up to me today and said " Shit Lil I may need a drink after 80 hours on that flag." LOL. Thank you so much.
Comments Off on
This is my morning . I woke up after only sleeping 4 hours. I decided to make myself a coffee in my new house and sit outside . Mistake ! The door locked behind me. No phone no key. Well I introduced myself to my new neighbors wearing an oriental robe and fuzzy pink pig slippers. ( no I am not joking). The neighbors were very nice remarking on my slippers followed by the " that limp is a runner's limp. We can spot it from a mile away." Two hours later Mac arrived and let me in the house. Long day today. Veteran girls coming in . We have our Coyote Clarity meeting tonight got our full San Diego staff. Need more coffee
Read comments or leave your own →
I was upset with Jazz because there was no sign on the New Orleans bar rooting for Leslie, myself and the Kenner boxing club while we ran the Rock and Roll Half Marathon today.
Ok so my Garmin watch said I ran 13.21 in 2 hours 11 minutes. My Runtastic app said I did it in 2 hours and 13 minutes and the race results say I ran it in 2 hours and 16 minutes. I say bullshit!! I am thinking that maybe I stopped before the final chip timing mat and that's why the race results seem slow. They put down 3-4 mats at the finish line. Perhaps I thought I was passed the final mat already. I guess I will have to go with the 2 hours and 13 minutes because its almost an average of the 3 varying times. I wanted so badly to do this in 2:10 minutes but I fell apart at mile 10. My right foot is killing me. The Kids from the boxing team did fantastic. 3 of them finished the half in under 1 hour and 40 minutes. They were flying. I finished the race within 6 minutes of 4 of them. I told Axel the coach that they need to step it up if a slow person like me can keep pace with them. LOL. So proud of Leslie. Her first half marathon and she did great!! OK off to catch a plane fro San Diego. I am hurting right now.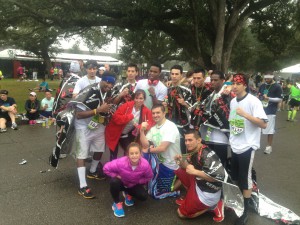 Comments Off on