Past Lil Spills
RECENT COMMENTS
More Lil Spills
2018
2017
2016
2015
2014
2013
2012
2011
2010
2009
My head is pounding. Went out with Katie and Jazz from the New Orleans bar. 5 botttles of wine .
Comments Off on
Memphis is killing me! Two days in a row of sheer horror. The excuse two days in a row " it's raining". Really? so I should be expect poor shifts just cause its raining ? Raining and Monday night football should equal big sales. Urgh
Comments Off on
Painful. I opened the logs from the weekend and was horrified. Omg Memphis. Sunday was possibly the worst day for any of the bars.
Bought the Vitamix Blender. Poor Jackson has had beet, kale , celery and all other weird juices. I have a horrible headache today so I am thinking maybe I am detoxing from all the juices. But what am I detoxing? Coffee, Unicom ? Meat? Wine? I only drink 1 cup of coffee a day. I only over indulge in drinking at an anniversary party. I do take unison almost every night. Oh who the fuck knows?
Comments Off on
Yesterday a call from Kevin " Lil Happy Thanksgiving. By the way one of the Coyote Ugly Storage units got broken into so I have to run down and talk to the police!" urgh. I had to laugh because out of the millions of things in those units I only had one concern . " please tell me they didn't steal the American flag tattoo shark?" No thank god .
Comments Off on
Hot damn! Feeling really good the last two days. Austin has been on fire this week. In the last few weeks we have brought NY back to the 21st century and the staff is rocking . That little bar is competing with the bigger bars. Kelsey the new Gm is really working hard. Love it!
Comments Off on
Holla Austin! Sunday Rocked! San Antonio and NY in the running.
Memphis just got new choreographed dances awesome!
Comments Off on
Spent the whole day at Lego league . ( don't ask)
Oh my god I just read the managers logs from last night. One word " painful " . Thank you to NY and Austin for making me rethink the beam and the noose.
Comments Off on
This was in the Kazan Herald
Coyote Ugly Founder Liliana Lovell traveled from the United States to Russia this past weekend to celebrate the two year anniversary of her saloon's expansion into the Russian market and to assess the brand's progress in the region.
After visiting her Moscow saloon's birthday party on Friday, 11 November, Lovell came to Kazan, the third Coyote Ugly location in Russia. She hosted a party in the Kazan bar on Saturday night which had an excellent turnout (she joked that there were so many people trying to enter the bar that she herself had to queue up to get in). Then, on Sunday, she appeared in a press conference hosted by Komsomolskaya Pravda entitled "The American Approach to Developing the Russian Entertainment Industry."
During the conference, Lovell fielded a range of questions, from the difference between American and Russian 'coyotes' (as the female bartenders are called) to the profitability of Coyote Ugly in Russia. "I don't feel like there's a competitor that is even close to where Coyote Ugly is," she declared. "I can honestly say—and I'm very proud of this—Coyote Ugly is the most famous bar in the world."
Kazan is the latest stop in the expansion of Coyote Ugly from a single dive bar on the Lower East Side of New York City to an international brand with saloons in 17 cities in the USA, Germany, and Russia. The company is opening a new bar in Minneapolis soon, but its vision has been global ever since its first licensed bars opened in Germany and Russia in 2009. In May 2011, just a month before the opening of the Kazan bar, Coyote Ugly Saloon signed an exclusive area development agreement with its Russian partners covering all of Russia and Ukraine. Under the terms of this agreement, the Russian partners have reportedly committed to opening six more saloons, in addition to the existing ones in Moscow, St. Petersburg, and Kazan. Lovell mentioned Kiev and Yekaterinburg as possible future additions to the network.
The narrative of the Russian Coyote Ugly is almost as remarkable as the story of the original New York bar. "They went drinking in the Coyote Ugly in Las Vegas and called me up because they had so much fun, they knew they had to open one," explained Lovell about how she met her Russian partners in an interview with The Kazan Herald on Saturday night. Just like its American counterpart, however, this story is the outer layer of a shrewd business approach. The decision to choose Kazan as the third location in Russia was based on a careful analysis of the Russian markets, according to Anna Zakharova, the bar's Marketing Director in Russia. "It's a sports capital, it's a very progressive city, lots of students, lots of young people," she said of Kazan on Saturday night. "We felt it's a great spot for Coyote Ugly."
Lovell echoed this sentiment in the press conference on Sunday. "Kazan is introducing a lot more business, Kazan is also introducing a lot more sporting events, things like that—right now, the bar is doing great," she said. "In two years, the bar's going to be doing even better. I was thinking, get in now, before it really breaks."
Coyote Ugly is the latest in a string of well-known names that have seen similar potential in Tatarstan's capital. Courtyard Marriott, Ernst & Young, and Rai Revolution have all opened operations in Kazan this year, and Hilton has recently reiterated its intentions to start doing business here as well. And, just like these other companies, Coyote Ugly focuses on maintaining a standard quality of management and training to ensure their success in this regional market. Coyote Ugly managers must go through four weeks of training in America before they begin working, and return for 2-week training courses every year after that, a process that is all paid for by the American company, according to their website. The franchise also sends trainers to help select and train employees before a new location is opened. "Every bar is a little bit different," added Lovell. "They all get trained the same, but they put their own flavor in."
Lovell is coy when talking about the profitability of the Russian license—"Let's say I'm very happy," she quipped when asked during the press conference—but she should be doing rather handsomely in Russia. According to her website's "Expansion" page, the U.S. company is typically entitled to either 5 per cent or $100,000 a year of the revenues from licensed bars, plus 25 per cent of logo merchandise sales.
Whilst Lovell's visit confirms that foreign companies have noted the town's potential, it also shows that Kazan's adaptation to an international mindset remains a work in progress. Lovell in particular was quick to note that the coyotes in Kazan had more of a provincial outlook and were less career-orientated than the girls in Moscow and St Petersburg. It was also difficult for her to get her point of view across to the journalists at her press conference, as many of Lovell's statements were often lost in translation.
Comments Off on
I can't believe Rosa is leaving the Austin bar after 7 years! " Rosa I wish you the best!be great and be happy"
Comments Off on
Alena regional manager in Russia. She likes her beer! She is the Russian clone of Daniel. Drinks, curses, and drinks again.
In my 3 visits to Russia today was the first time I have seen blue sky. Of course I took this picture from the plane as I go home. Lol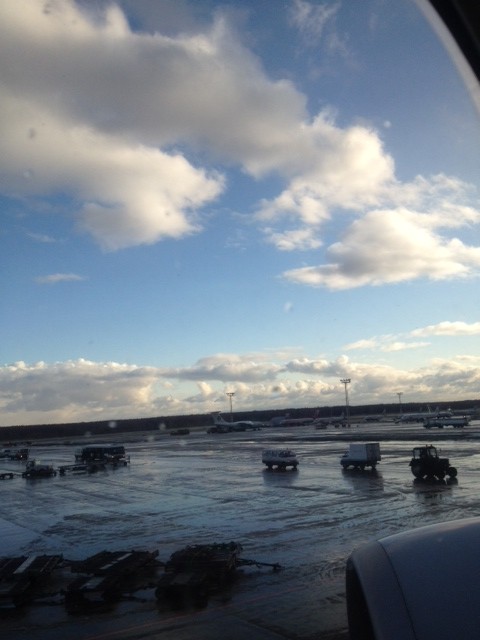 Comments Off on
The girls in Kazan performed a traditional dance for me. Of course right after this dance they slipped on their Coyote wear and rocked out.
Comments Off on
Still in a Russia. The Moscow anniversary party was a huge success. They did this traditional dance and wore shirts with my picture on it. Funny. The bar was packed all night. All the Russian bars sell one hour worth of smoking a hookah. That's very popular . But all the smoke in the air is torture. Darina is Moscow's Erika ( Denver ) always on the mic and she is a seller.
We came to the Kazan bar as well. Wow Kazan is a beautiful city . You can see the Muslim influence in all the architecture . And the women are gorgeous Really unbelievable. It's been a little crazy here. I am like a rock star to them. Press conference a million pictures. A little overwhelming .
And as the psychic predicted , I am very sick. One journalist asked me if my illness was caused by my career choice. " look dude you would be sick too if you didn't sleep and traveled too much. Last night I got to stay in my hotel room and sleep. If you can believe it I feel worse. Definitely need antibiotics. Ok one more day in Russia. Going sightseeing in Kazab today
Comments Off on
Heading to Moscow today. 18 hours . I will be fresh as a daisy for the Moscow anniversary. When we organized this trip I decided to go through N.Y so that Jeff and I can be on the same plane together. What a mistake . Today I have a 6 hour layover and on the return I have to stay at the J.F.K airport hotel because there are no night flights to New Orleans.
Excited to see the Moscow girls. They were freaking great the last time I saw them.i am heading to Kazan as well. To be honest I don't even know geographically where Kazan is. Lol
Ok let's do this thing
Comments Off on
I just did an interview for a russian biker magazine. They asked if I am going to ride with them in Russia? Last year , one of the licensees from Russia , Anna made me do a fashion photoshoot in front of all the employees. It was humiliating. Now I am stressed that she has me riding some motorcycle in the freezing rain around Moscow. Sorry Anna I love you but I am not going to Kill myself for the bars. Lol
Comments Off on
Chantel, niko , Jackson, and I went to the Saints game yesterday. So fun! I love when they win. But I definitely need to teach my son about football. He has no clue.
Wow the bars rocked on Sunday. I think Nashville is eclipsing San Antonio in numbers. And I want to give a shout out to Austin. That bar is really stepping up
I leave for Moscow in two days. They booked me from NY so Jeff and I could sit together . Unfortunately that totally screws me going home. But all is good. Strasvitstzi
Comments Off on
Just got back from the NY bar. Man there are some pretty girls. Tall, russian, gorgeous. Lol We had a ball.
Kelsey is working her butt off!
Well in half a day Kevin installed a new safe, fixed the front door, changed the office door and reorganized the wiring in the kitchen. I wish I was handy like that. Now I have to keep him in check from wanting to do too many upgrades.
Comments Off on
Publicity is publicity
Alcohol has nothing to do with Fitzgibbons Pub's tipsy appearance.
The two-story Water Street building, constructed as a sausage factory in 1892, is leaning heavily toward the Coyote Ugly Saloon next door in downtown Milwaukee. Far from a hazard, though, the tilt has become part of the bar's character, said Dan Fitzgibbons, who has owned the pub for 14 years.
Fitzgibbons Pub is among a handful of buildings across Milwaukee that visibly are leaning.  "It really wasn't that pronounced until they built the building next door," Fitzgibbons said, referring to the nine-year-old structure housing Coyote Ugly. "It shifted a little bit."
City records show both buildings are owned by Marlene Goldberg, who did not answer phone calls placed to the number on the city's file for her.
Fitzgibbons Pub is among a handful of buildings across Milwaukee that are fully functioning despite visible leanings, said Doug Krimmer, the city's building codes enforcement supervisor.  Krimmer does not know how many such buildings exist, but said they were built in the 1800s when construction regulations were few.  "Right now, we have setbacks," Krimmer said. "You can't put a building next to a building anymore. You probably could under a variance, but, generally speaking, you can't do that anymore.
"But back in the 1800s, that was common occurrence. In fact, buildings even shared the same wall — it was a cost-cutting thing. They were going to be neighbors, so what the heck?"  As a result, Krimmer said, many buildings, such as the Fitzgibbons Pub, have leaned over during the past century. That doesn't mean the buildings are unsafe, though.
Comments Off on
Denver you rock! The bars did great this weekend but only two did well for actual Halloween night. The San Antonio log said " the night went flawlessly". Really could you jinx the bar anymore lol
So last night I get an email from our Russian travel agent saying " get this done tonight!" ok dude it's my son's birthday party." ( my son has me saying dude). If I don't get my visa for Russia on time IT'S YOUR FAULT not mine
Comments Off on