Past Lil Spills
RECENT COMMENTS
More Lil Spills
2018
2017
2016
2015
2014
2013
2012
2011
2010
2009
We hired a new Gm in Denver! I hope he kicks some butt!! That staff has perhaps the best individual girls but to get them to have good attitudes every shift has been difficult . I read in his last managers log that he has already fired someone. Awesome ! Make Denver the powerhouse bar I know it can be.
Today was Jackson's school play. He had a ton of lines because he was one of three narrators. He narrated in both French and English . After the play Jackson , his friend Nick, and I went to cvs to buy a pair of goggles. There was only 1 pair left and that pair was pink. I said that's it so you will have to deal with a pink pair. Nick paused for one second and said " these goggles make me feel like a lesbian" I nearly fell laughing!
Yesterday at Omni Bank in New Orleans I asked if I could exchange my Mexican money for US currency. 3 tellers sat with a calculator trying to figure out how to calculate the exchange rate. I showed them that I downloaded a currency exchange on my phone and the amount I was calculating was roughly $98. Well twenty minutes they made me wait and then told me that they figured the bank fee was $30 so I would only receive $60. HELL NO. I told them I would exchange at the airport. No way in hell is that correct. Really it's not rocket science
Comments Off on
Crappy Monday for the bars. Austin did alright. Didn't see Denver.
I read the book " Shit My Dad Says". So fucking funny!!! " I swear I can hear Daniel speaking to his future son like that. " how did my dna create such a retard?"
Comments Off on
I just got back from Mexico City. Jeff and I were meeting our new cancun landlord. Having grown up in a Latin family, I know personally the respect and formality that goes into meeting people. We were treated very well. Their offices were gorgeous . Modern art covered the walls and guards protected the gates. At lunch we were treated to a steak dinner at a very nice place. Now is when the Latin respect issue comes in: " liliana please try a delicacy of the Mexican people. They are delicious ANT EGGS!!! No i am not lieing! My mother would be proud. I grabbed a tortilla and with a smile on my face I slopped on the ant eggs with some guacamole and thanked
my hosts. I can't lie it wasn't bad.
Comments Off on
"Daniel is the company hero. The Denver weekday numbers are incredible . If there was a bar olympics he would win a gold medal"
We need to get the new Gm in Denver trained and ready so that Daniel can get back to his old self. Now grumpy I am used to but sensitive ? Come on ? " Daniel don't forget California.!!"
Comments Off on
Memphis!!! Awesome weekend!! I love that!! All the bars did well except Lauderdale and Denver. Denver is so fickle. Its the only bar that does not really do significantly better on weekends then weekdays.
We have been working on a deal involving London. As we get more involved with the possible licensees I realize they really have no idea the power of Coyote Ugly. Do you know how much merch we sell? There is no way London can have a Coyote Ugly without a substantial merch store. That is just stupid.
Jeff and I are heading to Mexico this week to meet with our possible Cancun landlord. A lot going on!!
I was in Pensacola this weekend and as we drank coffee in the early morning we saw between 15 and 20 Dolphin swimming right in front of us. So beautiful. I was awed by nature at that moment but also I felt fear for them with this oil spill
Comments Off on
This is a new one. My god people are nuts. Some guy came into one of the bars with a belt buckle that was a gun. Everyone thought it was just a weird new fangled belt buckle. Low and behold the gun belt buckle went off and the police had to be called. How fucking nuts is that? Proof alone why people should not be allowed to bring weapons into a bar. " A real loaded gun as your belt buckle" He was either nuts or really really really stupid!!
Comments Off on
Yesterday was a long ass day! My flight out of new Orleans was at 7am. I had a connecting flight in Atlanta to Milwaukee at 1050. It took a total of about 4 1/2 hours to get to Milwaukee. I went straight from the airport to my lawyers office. We chatted for a bit. I met the landlords of the space I would like to open. Then the lawyer, Jeff, and myself went to the local Aldermen's office. We discussed our business plan in Milwaukee then we were on our way. These meetings only took 2 hours so I headed back to the airport to catch a flight home, connecting through Atlanta. I finally got home at around 10 pm. 9 hours flying for a two hour meeting . Long ass day!
Comments Off on
Zombie's log
No managers log tonight so here's the flood report.
Looks like we made it. While the Cumberland River is still way, way over flood
status at 51 feet, the water has dropped a foot and a half overnight and receeded
back across the street, stopping shy at our very backdoor at it's highest point.
Props to our entire security staff, whom all took time out of their night to show
up and hang out for a few hours (off the clock no less) for potential cleanup. We
all were awaiting the worst when the water was at our doorstep, but luckily it
didn't come to that.
The only thing that can screw us now is if they release more water from the dams
upstream, which is unlikely at this point.
There is no clear word on if we can open this morning. While there is no damage
there also may be no electricity or water. The power is off everywhere downtown
from our building down. Metro said it could go in and out at any time all day while
they make repairs.
So even though it sucks we couldn't open yesterday, it is an incredible bullet
dodged that the water stopped literally 3 inches from our door. It was an amazing
sight to see how close we came to being washed out like the rest of the block.
We'll be back up and running as soon as the city gets it's shit together.
P.S. – Security also ran up an $84 bar tab, so at least we made some money last
night!
Zombie
Comments Off on
Current vie from the Nashville's bar back door!!!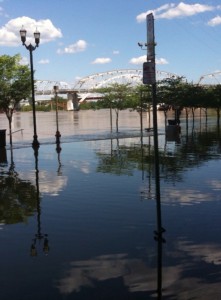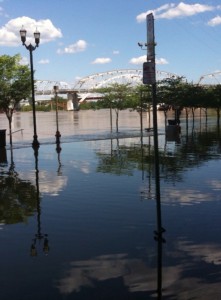 Comments Off on
Picture from the back of the Nashville bar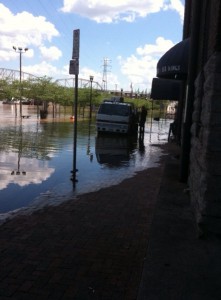 Comments Off on
Just got a call from Kyle. It seems that 2nd Avenue in Nashville is starting to flood so he is making provisions to try and minimize the damage before the bar starts flooding. Sunday morning I laid in bed and I was inundated with worries. I was worried about the bomb in Times Square and how it would effect people there. I was worried about the oil spill in the gulf and I was worried about how it will effect people, animals, and livelihoods in the south, and then I was worried about the staff and the Nashville bar with the extreme rain and floods. Wow a lot of worries.
Heading to Milwaukee today. I have some important meetings tomorrow.
Comments Off on