Kevin, Daniel , and Lee got Jeff'd this morning . The traditional explanation for Jeff'd is when he calls ( usually very early morning ) and you do not respond within an hour of his call . Immediately he puts you on his Shit list and it takes months to get off. There is an alternate definition of being Jeff'd ; that's when he calls me and tells me that someone didn't do something properly ( stretching the truth a tad). This morning he Jeff'd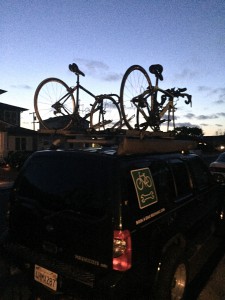 Kevin  and Daniel about closing accounts . Then snuck in a " when is Lee going to get back to work ?" ( Lee just had surgery yesterday ) . I laughed this morning because I secretly Love Jeff doing this . It means grumpy . And he is very productive while grumpy . He and I had a long term health care call today . Low and behold if we are not hang glider's or diving with sharks hoping for an attack , it appears we are all too young to purchase long term health care.
Just shipped my bike and Kevin's bike for next weekend's Half Ironman in New Orleans.  Why do I do this to myself ? Jackson was very amused when I had my tire changing lesson . " Jackson would you like to watch your mother fail miserably at changing a tire? " his response " yes I would love to." If I get a flat tire I am screwed . I figure I will be so close to the time disqualification even without a flat tire so I might as well just walk to the finish line and go to the beer tent .
Past Lil Spills
2023
2018
2017
2016
2015
2014
2013
2012
2011
2010
2009