" Mom I would rather be a janitor in a NYC Subway station then my high school. Jackson has had me laughing hysterically. " Mom today's principal's bullet points for the day started with " the person or people that have been throwing feces in the boy's bathrooms will be facing severe disciplinary consequences." Oh god so gross. Of course I told Kevin and Lee . Kevin seemed to think this was normal behavior. " When I was on the wrestling team they would throw pooh in the shower and call it pooh bombs. " So f gross.  I think there must be mental illness or a mental handicap for someone to do this. HMMM Kevin?
Mardi Gras is officially over. The bars did well. Also the traveling team in New Orleans rocked!!! So nice to get so many positive reviews. I am sure I will be hearing some funny stories from them. ( after they sleep and regroup)
Congrats to Justin, VP Of World domination, A new Precious baby girl. So happy for him. A Fat Tuesday baby. And today my trainer Jim and his wife had a baby boy. Happiness is all around us.
This is the sunset from my house. So nice to be home.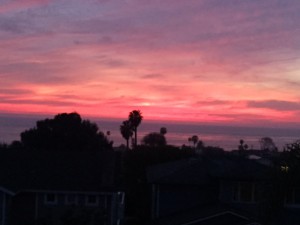 Past Lil Spills
2023
2018
2017
2016
2015
2014
2013
2012
2011
2010
2009