Waking up New Year's morning with no hangover!! I think that's an omen of positive things to come. I was out in San Diego. Finally December 30th I signed the lease for our new Gaslamp location!! I already have a couple of friends in San Diego. In fact I was invited to two New Year's eve parties in La Jolla. I was feeling under the weather on New Year's eve. But I rallied and got dressed up. I did my hair with a blow dryer ( I never do my hair). I even put makeup on. Then I made a tiny mistake. I sat on my bed to watch some tv. Low and behold when my eyes opened it was 4:30 am. Again, no hangover and I woke up feeling better.
Jackson gave me quite a surprise when I facetimed him on the 30th. 10 inches cut off of his hair. We are sending it today to the charity " Children with Hairloss". He woke up and said to his dad " I am ready to cut my hair." His dad said to me that he thought of asking Jackson to wait till I got home but was scared he would reconsider. 10 inches and he still has long hair. I was going to write LOL but I have been told by Jackson that it's passé and the new terminology is Thanks for humoring me. TFHM.
Right now Kevin and I have been fighting for the last half an hour about our contractor. I asked Kevin if Steve could go out to San Diego a day early to fix my shower door in the new house? Kevin said NO he needs him right now. But Steve is waiting in Texas for Kevin's go ahead and Kevin hasn't given him the go ahead. So why can't he go now and fix my shower? I am writing this in a nice way. Let's just say that Kevin and I do not fight nicely.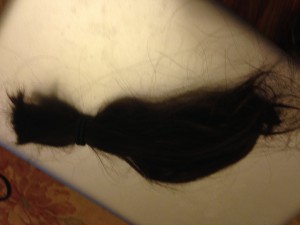 Past Lil Spills
2018
2017
2016
2015
2014
2013
2012
2011
2010
2009