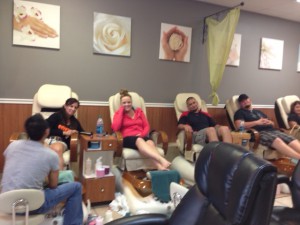 Pre race day pedicures. All teams should do this! Just missing Chantel during pedicure tradition.
It's pouring out with lightening. Not sure if they will cancel the swim. If they do it becomes Run, Bike, Run. The stress level is very high right now. 1. How the Fuck can you swim when the water is this rough? 2. How do you bike on these super thin tires when it's pouring out? And Lizzie's worry 3. How can I finish in 3.5 hours?
Urgh
I got flowers sent to the Destin bar. Hmmmm!
Past Lil Spills
2018
2017
2016
2015
2014
2013
2012
2011
2010
2009