Is this considered multitasking? Working and texting fat ass comments? Mac and I have been CC'd on texts back and forth from Lee and Kevin.
Kevin: " couldn't text I was bench pressing a school bus . Maybe one day I can bench press Lee's fat ass.
Mac: " I've just been hooking up with bigger women all in the name of competition.
Lee: Only took Kevin 4 hours to finish his diet of school bus cake, cement truck cake. Dude you have to stop watching cake boss.
Kevin: " I'm thinking when we get to the arctic enema obstacle, Mac and I should hurl all 800 lbs of Lee. The displacement of water from his fat ass should be more then enough to splash out all of the water.
Lee: What's too much is that turtle back you call a stomach. my iphone autocorrected to say stomachs. Even Siri knows your a fat ass."
Guys we need to work. Lee just sent a photoshopped picture of a fat guy with Kevin's face. Running while holding a hamburger. Nice job.
Leaving for Vegas tomorrow. Want to be good and rested for the Tough Mudder.Let's do this shit!!
Oh Daniel kind of bested me on an inside joke. Damn, well played Mr. Huckaby. I need to up my game.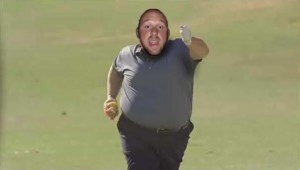 Past Lil Spills
2018
2017
2016
2015
2014
2013
2012
2011
2010
2009