Location
Visit us
Phone

212-477-4431

Email

Hours

Sunday 12:30pm-4am
Monday 2pm-4am
Tuesday 2pm-4am
Wednesday 2pm-4am
Thursday 2pm-4am
Friday 12:30pm-4am
Saturday 12:30pm-4am
Upcoming Events
July 31, 2015

If you are taken, wear Red. With someone but complicated, wear Yellow. Single and ready to mingle, you say? Wear Green! Let's Make this Friday interesting!
Weekly Specials
Happy Hour

Monday-Friday
4-7pm
Leave work early and come in to see us! We have 2-for-1 drinks!
Late Night Happy Hour

Sunday & Monday
2-4am
Join us for a late happy hour!
Games Specials

Sunday & Monday
Sunday Days

Sunday
$5 bloody marys
Midnight Margarita Night

Monday
Midnight-4am
$5 margaritas
Whiskey Sour Night

Tuesday
9pm-2am
$3 whiskey sours
Soco Lime Night

Wednesday
9pm-Midnight
$6 Soco Lime
Ladies Night!

Thursday
9pm-Midnight
$5 Malibu and flavored vodka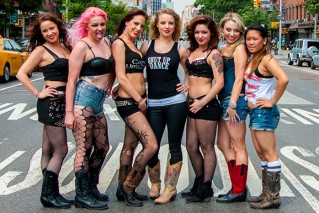 Click here to see OUR COYOTES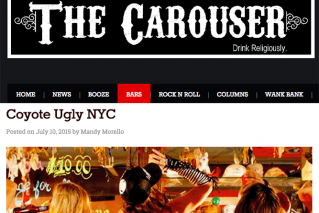 The Carouser
"A girl instantly smiles at me from behind the bar and beckons me over. 'Welcome to Coyote Ugly'..."...
Schedule
Monday: Sonia
Monday night: Mesha
Tuesday: Celine
Tuesday night: Tahnee
Wednesday: Ty
Wednesday night: Maya
Thursday: Adhama
Thursday night: Tahnee
Friday: Mesha
Friday night: Tahnee, Ty, and Brittany
Saturday: Amy
Saturday night: Maya, Ty, and Mesha
Sunday: Celine
Sunday night: Maya