Location
Visit us
Phone

212-477-4431

Email

Hours

Sunday 12:30pm-4am
Monday 2pm-4am
Tuesday 2pm-4am
Wednesday 2pm-4am
Thursday 2pm-4am
Friday 12:30pm-4am
Saturday 12:30pm-4am
Upcoming Events
December 3, 2016

Get your tackiest sweater and be ready to jingle bell ROCK! Coyote Ugly will have $5 mix well drinks, $4 speciality shots, and $4 16-ounce draft beer! Get tickets here. Presented by Elite Bar Crawl.
December 31, 2016

Suit Up: A Black Tie Affair

Our black tie NYE party will have a DJ spinning all night long, champagne toast, and party favors! Tickets are $10, and the first 50 people arriving 9-10pm will receive gift bags. Get bottle service with your own cocktail Coyote for $300 (Jack Daniels, Jameson, Titos) or $400 (Hennessy, Grey Goose, Johnny Black).
Weekly Specials
Happy Hour

Monday-Friday
4-7pm
Leave work early and come in to see us! We have 2-for-1 drinks!
Late Night Happy Hour

Sunday & Monday
2-4am
Join us for a late happy hour!
Weekend Days

Saturday & Sunday
12:30-5pm
$5 Bloody Marys
Sunday Night Special

Sunday
9pm-12am
$5 Jagermeister & $6 Jager Bombs
Margarita Night

Monday
9pm-12am
$5 Cuervo Margaritas

Wild Turkey Tuesdays

Tuesday
9pm-12am
$5 Wild Turkey & Wild Turkey Honey
Wednesday Night Special

Wednesday
9pm-12am
$4 Bud & Bud Light
$6 Jack Fire
Ladies Night!

Thursday
9pm-12am
$5 Malibu & flavored vodkas
Friday Special

Friday
9pm-12am
$4 Bud & Bud Light
Merchandise Sale

At the bar, all 2X & 2XX men's shirts are on sale for $15!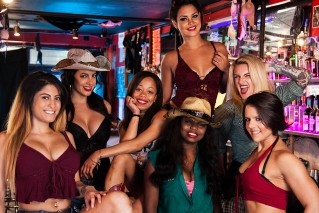 Click here to see OUR COYOTES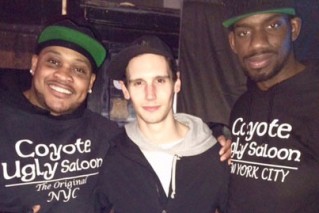 Riddler at Coyote Ugly New York
Cory Michael Smith, Ed Nygma (aka the Riddler) in the TV series Gotham, visited the New York bar!...
Schedule
Monday*
Tuesday
day*
night: Maya
Wednesday
day: Ty
night*
Thursday
day: Ty
night: Mesha & Dawn
Friday
day: Mesha
night: Maya, Morgan & Ty
Saturday
day*
night: Mesha, Dawn & Morgan
Sunday
day: Mesha
night: Maya
*no set schedule, visit us and find out!