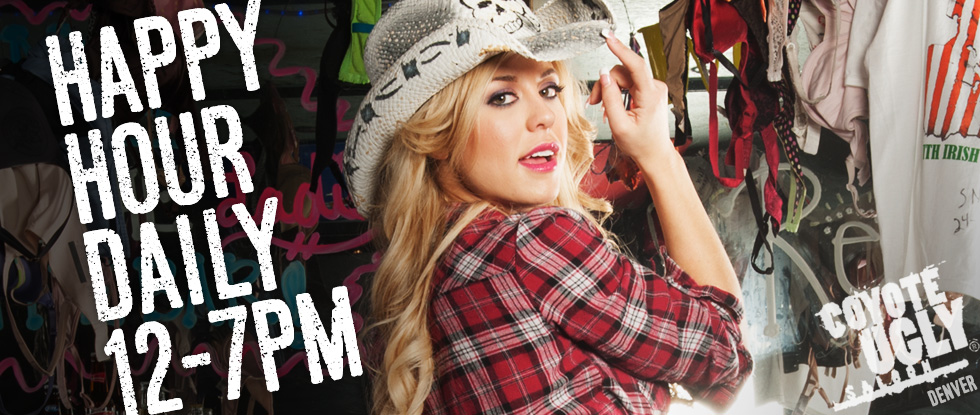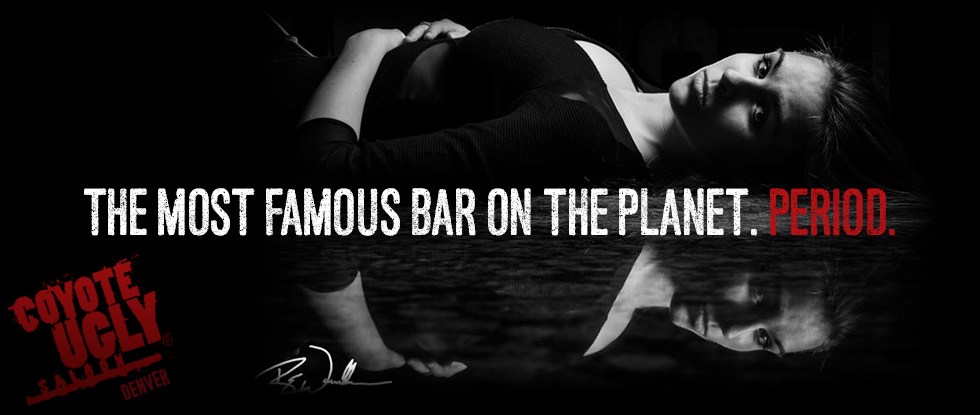 Location
Visit us
Phone

303-534-UGLY

Email

Hours

Sunday 12pm-2am
Monday 12pm-2am
Tuesday 12pm-2am
Wednesday 12pm-2am
Thursday 12pm-2am
Friday 12pm-2am
Saturday 12pm-2am

Kitchen

We serve food, back by popular demand. Have a beer, a shot, and a snack!
$5 Long Island ice teas all night tonight! $16 buckets & beautiful women. Win-win situation. 🤷‍♀️
RT @coyotelil: New Orleans bar getting rebuilt. Dropped the kid off in Rhode Island . Heading to Hawaii on vacation .  Going to… https://t.…
We have all of these deep eddy flavors for just $4 tonight 🍹🍸💁 it's ladies night, come party! https://t.co/k5hbE7IO3Q
Thirsty Thursday!!! $ happy hour 12-7 🍻
Upcoming Events
June 30, 2017

Coyote Ugly Denver is having a Star Wars Theme for the opening day of Comic Con!

What better way to celebrate Comic Con in Denver than to dress up in your Star Wars Gear!?! Come see who your Coyotes will be dressed up as!

Bring in your tickets from Comic Con and get a Buy One Get One free drink during Comic Con.
July 1, 2017

Our America Theme Party is happening for Independence Day weekend!
Weekly Specials
Happy Hour

Every day
12-7pm daily
$2 Bud and Bud Light bottles
$2 Wells
Friday & Saturday Specials

Friday-Saturday
8pm-close
$5 Well LIT's
$7 Top Shelf LIT's
$16 Bud and Bud Light Buckets
$20 Corona Buckets
Sunday Specials

Sunday
8pm-close
$4 Jack, Jack Fire & Jack Honey
Draft Mondays

Monday
8pm-close
$1 off Draft Beers
$5 Wild Turkey and American Honey
Tequila Tuesdays

Tuesday
8pm-close
$5 Cuervo Gold and Silver
$7 1800 Gold and Silver
Bomb A$$ Wednesdays

Wednesday
8pm-close
$5 Three Olives Bombs
$5 Jager Bombs
Thirsty Thursdays

Thursday
8pm-close
$4 Deep Eddy and Flavors
$3 Kamikaze
Daily

Service Industry discounts available, ask for a manager!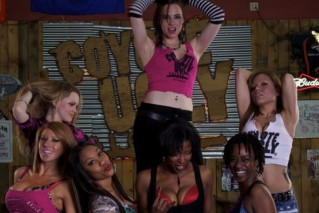 Click here to see OUR COYOTES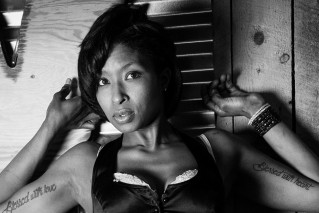 This traveling Coyote gets the best out of everyone, not to mention her great dancing and singing skills!
Coyote Auditions
Do you have what it takes to be a Coyote at the most famous bar on the planet?? We have open auditions every Wednesday night. Be here by 8:45pm to fill out an application, and auditions start at 9pm!