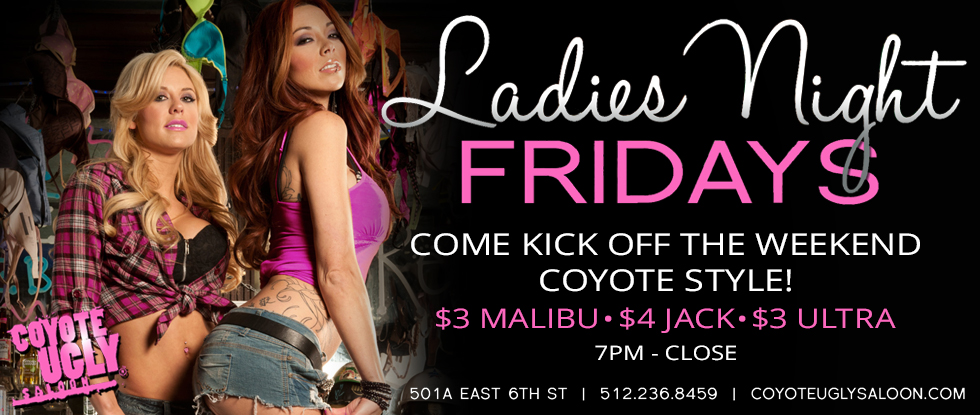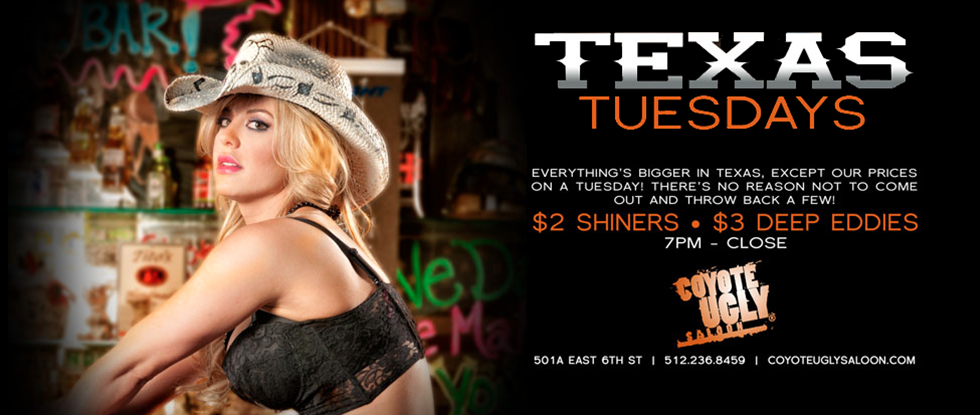 Location
Visit us
Phone

512-236-UGLY

Email

Hours

Sunday 12pm-2am
Monday 5pm-2am
Tuesday 5pm-2am
Wednesday 5pm-2am
Thursday 5pm-2am
Friday 12pm-2am
Saturday 12pm-2am
Freaky Friday tonight with Lauren, Demme, Cortney, Rosa, Patty, Red, Reanna, Michelle, and Ellen. $5 JAger bombs!6 years ago
Michelle, Rylee, Cortney, Rosa, Party Patty, Brittney, ellen, and Lauren are working tonight. $20 bodyshots.6 years ago
Red and Jay are working Saturday day shift. $5 beer and shot special6 years ago
Lauren, Demme, Rosa, Patty, Tex, reanna, Jay, Michelle, and Ellen are working Frisky Friday. $5 jager bombs!6 years ago
Patty, rylee, and Jay are working Thirsty Thursday. $2 domestics from 8 til 11 and $3 long islands all night long.6 years ago
Patty, Jay, and Rylee are working Thirsty Thursday. $2 domestics from 8 til 11. $3 long island iced teas all night6 years ago
Demme, Party Patty, and Reanna are working Margarita Monday. $3 Margaritas.6 years ago
Demme, Cortney, Brittney, Kayla, Party Patty, Rosa, Reanna, Jay, and Michelle are working Saturday night $20 bodyshots!6 years ago
Rylee and Tex are working Saturday day shift. $5 beer and shot special.6 years ago
Upcoming Events
July 30, 2016

"Take me out to the ball game..." Join us for all things baseball!
Weekly Specials
Happy Hour

Monday-Friday
5-7pm
$2 Miller Lite/Coors Light
$1 Well Drinks
Happy Hour

Friday
12-5pm
$2 Miller Lite/Coors Light
$3 Well Drinks
Happy Hour

Saturday/Sunday
12-7pm
$2 Coors Light
$3 Deep Eddies
Mexican Monday

Monday
$3 Corona
$4 Cuervo
No one said the weekend has to end, you just keep it going until Friday rolls around again!
Texas Tuesday

Tuesday
$2 Shiner
$3 Deep Eddies
Everything's bigger in Texas, except our prices on a Tuesday!
Wednesday Pint Night

Wednesday
$3 Drafts
$5 Three Olives Bombs
Thirsty Thursdays

Thursday
$2 Bud Light
$3 Jager
So close to the weekend, it might as well be.
Friday Ladies Night

Friday
$3 Malibu
$4 Jack
$3 Ultra
Come kick off the weekend!
Sexy Saturdays

Saturday
7pm-close
$2 Miller Lite
$4 Captain Morgan
It's the biggest night of the week, and we want to make sure you celebrate it in style!
Sinful Sundays

Sunday
$2 Miller Lite
$3 Titos
It's time for the hair of the dog after a great weekend, and we have the cure to make sure you can coast into Monday.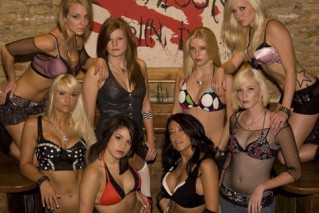 Click here to see OUR COYOTES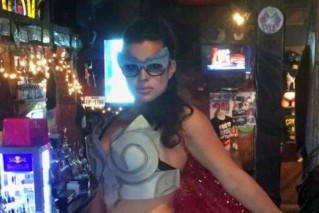 Roselyn has become a pillar for the Coyote Ugly staff in Austin.
Auditions
We're looking for hard working, positive, fun ladies to join our team! Come in any night 8pm-4am for an audition.