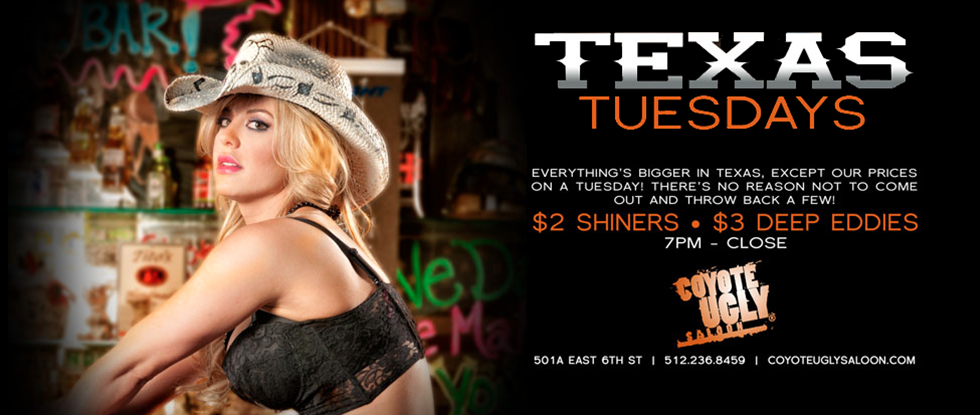 Location
Visit us
Phone

512-236-UGLY

Email

Hours

Sunday 12pm-2am
Monday 5pm-2am
Tuesday 5pm-2am
Wednesday 5pm-2am
Thursday 5pm-2am
Friday 12pm-2am
Saturday 12pm-2am
Freaky Friday tonight with Lauren, Demme, Cortney, Rosa, Patty, Red, Reanna, Michelle, and Ellen. $5 JAger bombs!5 years ago
Michelle, Rylee, Cortney, Rosa, Party Patty, Brittney, ellen, and Lauren are working tonight. $20 bodyshots.5 years ago
Red and Jay are working Saturday day shift. $5 beer and shot special5 years ago
Lauren, Demme, Rosa, Patty, Tex, reanna, Jay, Michelle, and Ellen are working Frisky Friday. $5 jager bombs!5 years ago
Patty, rylee, and Jay are working Thirsty Thursday. $2 domestics from 8 til 11 and $3 long islands all night long.5 years ago
Patty, Jay, and Rylee are working Thirsty Thursday. $2 domestics from 8 til 11. $3 long island iced teas all night5 years ago
Demme, Party Patty, and Reanna are working Margarita Monday. $3 Margaritas.5 years ago
Demme, Cortney, Brittney, Kayla, Party Patty, Rosa, Reanna, Jay, and Michelle are working Saturday night $20 bodyshots!5 years ago
Rylee and Tex are working Saturday day shift. $5 beer and shot special.5 years ago
Upcoming Events
September 5, 2015

Come see your Coyotes celebrate Labor Day dressed as what they want to be when they grow up!
Weekly Specials
Happy Hour

Monday-Friday
5-7pm
$2 Miller Lite and Coors Light and $1 Wells
Early Happy Hour

Friday
12-5pm
$2 Miller Lite and Coors Light along with the $3 Wells
Weekend Happy Hour

Saturday-Sunday
12-7pm
$2 Coors light & $3 Deep Eddies
Sinful Sundays

Sunday
It's time for the hair of the dog after a great weekend, and we have the cure. 7pm-2am $2 Miller Lite and $3 Fireball to make sure you can coast into Monday.
Mexican Mondays

Monday
$3 XX & $3 Corona & $4 Cuervo! No one said the weekend has to end, you just keep it going until Friday rolls around again!
Texas Tuesdays

Tuesday
Everything's bigger in Texas, except our prices on a Tuesday! There's no reason not to come out and throw back a few $2 Shiners & $3 Deep Eddies.
White Trash Wednesdays

Wednesday
$3 Drafts & $3 Fireball
Thirsty Thursdays

Thursday
So close to the weekend, it might as well be. $2 Bud Light & $3 Titos!
Friday Ladies Night

Friday
Come kick off the weekend with $3 Ultra, $3 Malibu & $4 Jack!
Sexy Saturdays

Saturday
7pm-close
It's the biggest night of the week, and we want to make sure you celebrate it in style with $4 Captain Morgan and $2 Miller Lite!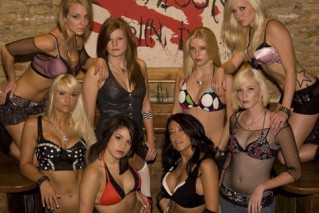 Click here to see OUR COYOTES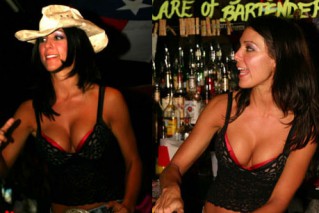 Rest in Peace, Esther
Saturday was a very sad day for our Coyote Ugly Family. Esther succumbed to her battle with cancer....
Auditions
We're looking for hard working, positive, fun ladies to join our team! Come in any night 8pm-4am for an audition.