Location
Visit us
Phone

813-241-UGLY (8459)

Email

Hours

Sunday 2pm-midnight
Monday Closed
Tuesday 5pm-3am
Wednesday 5pm-3am
Thursday 5pm-3am
Friday 5pm-3am
Saturday 5pm-3am
Upcoming Events
October 19, 2018
8:00 pm-10:00 pm

Please join us in Tampa for a fundraiser for our Coyote Ugly Panama City staff who lost their homes or income in this devastating storm. Donate $10 at the door, and enjoy open bar 8-10pm! Many thanks to Budweiser and Monkey Rum for your support!

This event is taking place at all of our Florida locations–Tampa, Destin, and Daytona Beach.

Thank you also to Coyote Ugly Tampa staff for giving up or sharing shifts and housing with relocated PCB Coyotes. We are grateful for our Coyote family!
October 26, 2018
9:00 pm

Join us outside on 7th Avenue at 7pm to watch the Legend of the Pumpkin King Parade featuring local major sports franchises, themed costumed marchers, and fantasy air puppets!

Come in to Coyote Ugly afterward for the Legend of the Pumpkin King Parade After Party with $3 Fireball Whisky & $5 Bombs all night long!
Saturday, October 27

IGNITE FRIGHT NIGHT featuring a Fireball Whisky Dragons Den Experience!

$3 Fireball Whisky all night!

Soundtrack by: Chris Kiser & D3Z
October 30, 2018
10:00 pm

Join us in celebrating Dia de los Muertos (The Day of the Dead) on Tuesday October 30th! We will have a face painter w/ great drink & shot specials all night! This date will also be the soft launch our newest weekly promotion, 2Wi$t€d 2u€$da¥$! From 10pm - close enjoy $2 drinks and $2 Fireball!
October 31, 2018
9:00 pm

The Bay's BIGGEST Wednesday night is throwing the most INTENSE uv experience around! Hallow-Glow is BACK and now BIGGER than ever! Join us on Halloween Night, Wednesday October 31st for our Halloween / UV themed Hallow-Glow!! Arrive EARLY, ladies drink FREE until midnight and after midnight EVERYONE drinks $3 drinks until close!! We have LOTS of surprises planned. We strongly recommend you wear WHITE or a COSTUME that will glow under extreme UV / Black lighting!

Hosted by Super C (Christi) & from WILD 94.1 Buckwheat and Kenzie K. Soundtrack by DJ BIG Willie. This event is powered by Debacle ENT., ALT LYFE LLC & WILD 94.1!
Questions? events@debacleENT.com
Weekly Specials
Happy Hour

Wednesday-Friday
5-7pm
Buy one get one free wells & domestics
Tasty Tuesday

Tuesday
Join us for $5 quarts of Bud Light, $5 Fireball & Tasty Trashcans. Ask your Coyotes about all our great specials.
$2 Drink Night

Wednesday
9pm-close
$2 wells & domestics
Girls Night Out

Wednesday
9pm-3am
Every Wednesday is GIRLS NIGHT OUT at Coyote Ugly in Ybor City!

Ladies DRINK FREE from 9pm - Midnight and the from midnight to close EVERYONE drinks $3 drinks!

Hosted by iAmSuperC, ALT LYFE and Debacle ENT. with DJ B.I.G. WiLLiE providing the soundtrack!
Thirsty Thursdays

Thursday
$5 Bud Light Quart
$5 Fireball

Throwback Thursday Industry Night

Thursday
$10 All-You-Can-Drink Keg Party
$5 You Call It
$5 Bombs
$5 Fireball
$2 PBR
Beer Pong Tournament
Winning team receives $50 bar tab
$5 Tournament entry
Freaky Fridays

Friday
Get your weekend going! $3 shooters starting at 10pm with Coyotes heating up the bar all night. Free shots for ladies dancing on the bar & $4 domestic bottles all night.
Sexy Saturdays

Saturday
The ladies are out and the bar is burning! Free shots for our bar dancing ladies and $5 Fireball, $5 import bottles, $2 PBRs & $5 Sailor Jerry Rum.
Sunday Funday

Sunday
Alex and Danielle bring fun times with $2 PBRs, Cornhole, free shots for ladies dancing on the bar, and plenty of fun shot & drink specials.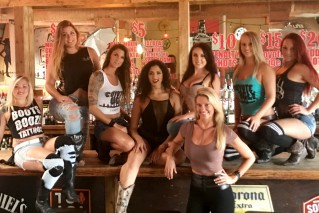 Click here to see OUR COYOTES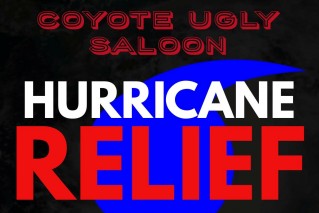 Hurricane Michael Relief
Coyote Ugly PCB is closed for repairs but still standing! Our Destin location is open and taking donations of food, water, and other items....
News
Holiday Hours
Christmas Eve: closed
Christmas Day: open at 8pm