Location
Visit us
Phone

212-477-4431

Email

Hours

Sunday 12:30pm-4am
Monday 2pm-4am
Tuesday 2pm-4am
Wednesday 2pm-4am
Thursday 2pm-4am
Friday 12:30pm-4am
Saturday 12:30pm-4am
Upcoming Events
December 20, 2017
6:00 pm-9:00 pm

Come on down, we are having our first ever industry night, hosted by @yalmtree! Enjoy Happy Hour specials until 7pm.
December 31, 2017

We'll have party favors, a champagne toast, and DJs RedMan and SSRmovements! The first 50 in the door 9-10pm receive a gift bag, so get here early!

Bottle service available. Includes a table for 4-6 and your own cocktail Coyote.
$300 Jack Daniels, Jack Fire, Jack Honey, Jameson or Titos
$400 Hennessy, Grey Goose ,Johnny Black, Macallan or Hendricks
Both packages include all the fixings.
Weekly Specials
Happy Hour

Monday-Friday
4-7pm
Leave work early and come in to see us! We have 2 for 1 on everything in the house ($12 and under)!
Late Night Happy Hour

Sunday & Monday
2-4am
2 for 1 on everything in the house
Join us for a late happy hour!
Weekend Days

Saturday & Sunday
12:30-5pm
$5 Bloody Mary Bar
Sunday Night Special

Sunday
9pm-12am
$5 Jager shots
$6 Jager Bombs
Margarita Night

Monday
9pm-12am
$5 Cuervo Margaritas

Tequila Tuesday

Tuesday
9pm-12am
$5 Wild Turkey & Wild Turkey Honey
Whiskey Wednesday

Wednesday
9pm-12am
$4 Bud and Bud Light Bottles
$6 Jack Fire
Ladies Night!

Thursday
9pm-12am
$5 flavored rums & vodkas
Friday Special

Friday
9pm-12am
$4 Bud and Bud Light Bottles
Merchandise Sale

At the bar, all 2X & 2XX men's shirts are on sale for $15!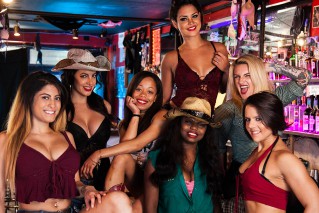 Click here to see OUR COYOTES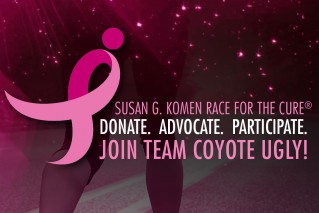 Coyotes Nationwide Race for the Cure
Donate or join a team! Coyote Ugly is participating in the Susan G. Komen Race for the Cure® across the U.S....
Schedule
Monday*
Tuesday
day: Val
night: Amy
Wednesday
day: Ty
night*
Thursday
day: Amy
night: Ty & Dawn
Friday
day: Mesha
night: Ty & Val
Saturday
day: Amy
night: Dawn & Mesha
Sunday
day: Amy
night: Mesha
*no set schedule, visit us and find out!