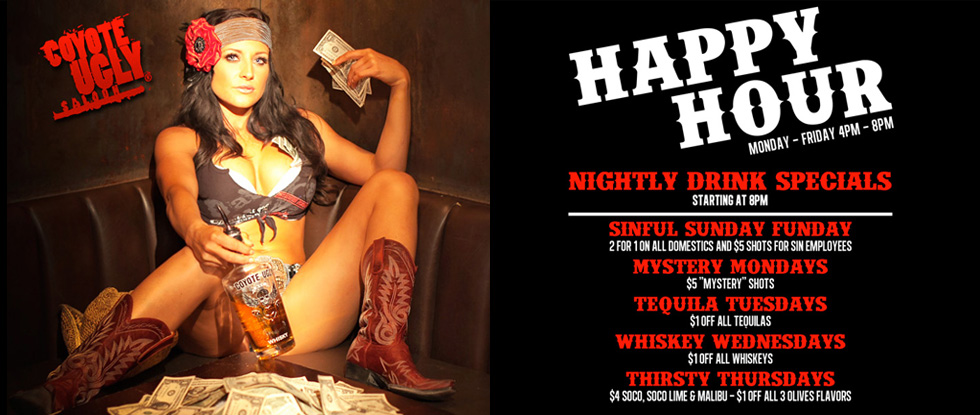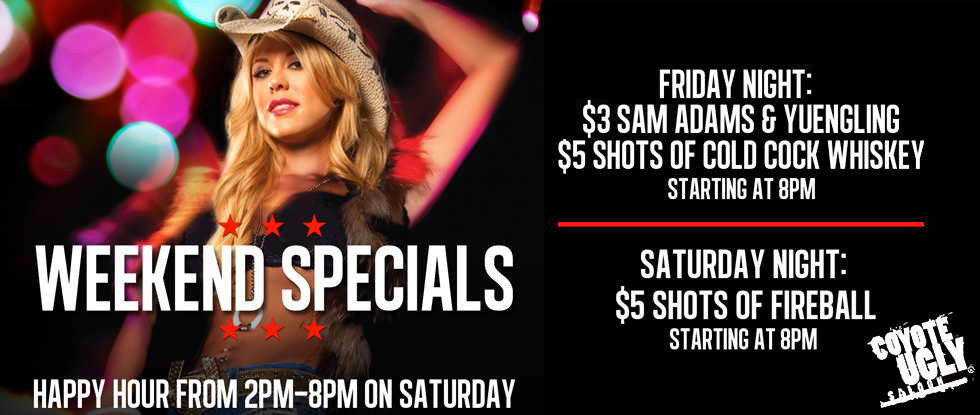 Location
Visit us
Phone

901-888-UGLY

Email

Hours

Sunday 4pm-2am
Monday 4pm-2am
Tuesday 4pm-2am
Wednesday 4pm-2am
Thursday 4pm-2am
Friday 4pm-3am
Saturday 2pm-3am

Kitchen

Kitchen is open 6pm-close Wednesday through Saturday. Check out our great menu!
THE PARTY IS ON TONIGHT!! We are soooo happy the ice is gone!!!! Come downtown to take BODYSHOTS and hang out... http://t.co/NoH6t1ltKk
The party is GOING STRONG at Coyote Ugly Memphis. If you aren't here...YOU'RE MISSING OUT!!! http://t.co/OI10cNopTi
IMPORTANT PUBLIC SERVICE ANNOUNCEMENT!!!! BODYSHOTS will be served ALL NIGHT LONG at COYOTE UGLY ON THE WORLD... http://t.co/hUIJKc0fmV
If you weren't here last week...YOU MISSED OUT!! Here is a great tidbit of what was going on. Can't wait until... http://t.co/bN0xxgpY6O
EVERYONE LOVES TO DANCE!!! I believe it's MOTHER FUCKING SHOT TIME!!! Come to coyote on Beale St for a good... http://t.co/lqhZ1JH7vX
Blues and bodyshots come down to the world famous coyote ugly saloon bodyshots all night long http://t.co/FYkgfwpIPA
IBC IS IN THE HOUSE!!! Come downtown to enjoy some great bands and an ice cold beer. SHOT SPECIALS ALL NIGHT...$4... http://t.co/3iwm4A1MnE
Come plaaaay!!!! WE HAVE $4 REDBULL VODKAS, $3 MARGARITAS, $2 PBR'S!!!! HAPPY HOUR ENDS AT 8PM!!! Hurry the fuck... http://t.co/35136N5T5W
We just want to thank EVERYONE for being fucking awesome!!! That is all. :)
Upcoming Events
See our daily specials below, and check back soon for more events!
Weekly Specials
Happy Hour

Daily
$4 Redbull/vodkas, $3 margaritas and $2 PBRs
Monday-Friday 4pm to 8pm
Saturday 2pm to 8pm
Sunday 4pm to 8pm
SINful Sunday Funday

Sunday
"2 for 1" on all domestics and $5 shots for all SIN STAFF starting at 8pm
Mystery Mondays

Monday
$5 "Mystery" Shots starting at 8pm. Come in to solve the mystery!
Tequila Tuesdays

Tuesday
$1 off tequilas starting at 8pm
Whiskey Wednesdays

Wednesday
$1 off all whiskeys starting at 8pm
Bike Night on Beale is back on April 16!
Ladies Night

Thursday
Starting at 8pm, get $4 Malibu, Soco, Soco lime, and $1 off all 3 Olives flavors.
Police, Fire and Military Night

Friday
Every Friday, get $1 off all domestics starting at 8pm with service I.D.
Friday Night Special

Friday
$3 Sam Adams and Yuengling and $5 shots of Cold Cock Whiskey starting at 8pm
Saturday Night Special

Saturday
$5 Fireball starting at 8pm!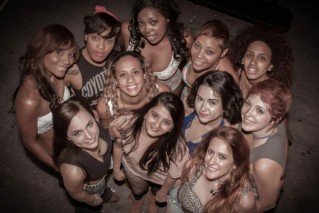 Click here to see OUR COYOTES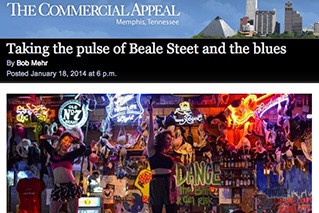 The Commercial Appeal
"A few doors down at Coyote Ugly, the staff is dancing on the bar, as a couple patrons look on, and someone rides a mechanical...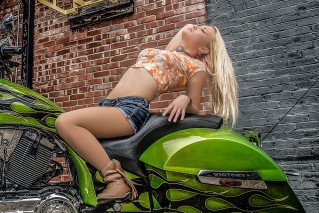 Abby is a spunky, fun person to work with. She's beautiful and always has a smile on her face. She mesmerizes everyone with her hula-hooping