October 2007
Hometown:
Jackson, KY… "Go UK"
What's the most fun about your job at Coyote Ugly?
When the jukebox runs out of money, and I show the crowd my rapping skills. Sometimes ears bleed!
What makes you a good Coyote?
My positive attitude and dedication
How long have you been a bartender?
A year and a half
What do you like to do on your off time?
Spend time with family and friends and drive Dad's Jeep.
What is your favorite type of music?
Southern Rock. ""Waylon Jennings is the Bomb!""
Do you think the movie is anything like the real thing?
No… In the movie they let a man on the bar. We all know that does not really happen. The real thing is better!
Why should a potential customer come and visit you?
I have a large personality. You will remember me!
Do you have any advice for women who want to be a Coyote?
Be yourself. If you're having fun, then the crowd is having fun.
Angie, Nashville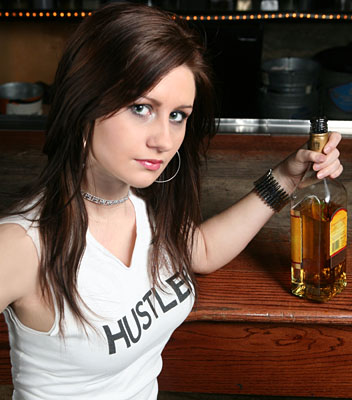 News Archive
Location
Section