April 2010
Although she looks like a junior, Angie is one of the senior German Coyotes! She sweetens our lives with her enthusiasm and positive vibes. Angie also has a great sense of humor and loves to laugh. It's little wonder she is a favorite among our guests at the Coyote Ugly in Koblenz or Baumholder!
Hometown: Cologne, Germany
What's the most fun about your job at Coyote Ugly?
It's a party all night long.
What makes you a good Coyote?
I am what I am. 😉 Coyote Ugly is my life, and I want a good life!
How long have you been a bartender?
I've been a bartender 5 years now.
What do you like to do on your off time?
Sexy dinners, I love eating! I also like saunas and a little bit of
sports.
What is your favorite type of music?
It's all about rock! System of the Down is my favorite, and Mr Manson is my second love.
Do you think the movie is anything like the real thing?
What movie?!
Why should a potential customer come and visit you?
Because it is the best party in town!
Do you have any advice for women who want to be a Coyote?
Be yourself, be sexy, and try as hard as you can!
Angie, Germany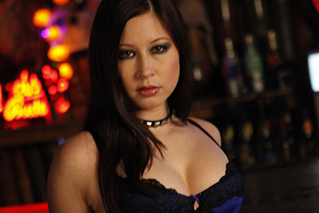 News Archive
Location
Section